Locally owned and detailed oriented, Southern Carpet Solutions is your leader in carpet cleaning services in Slidell Louisiana. We all know that a clean home is a happy home. A big part of that happiness comes from keeping the carpet in your home clean, healthy, and fresh.
We use a hot water extraction process that leaves your carpets not just looking brand new again, but sanitized, clean, and healthy. We offer many advanced cleaning methods to our clients to give them not only the best cleaning, but also guaranteed results. We use proven methods that deliver results for removing: Pet Odor, Red Dye, Make Up, Paint and/or Grease, and many more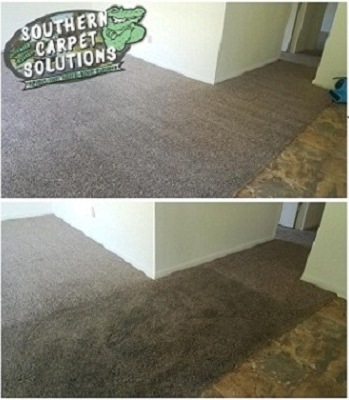 stubborn stains and smells.
An Excellent Job Guaranteed Each Time!
Southern Carpet Solutions is committed to building up relationships through outstanding customer satisfaction and service. All of our work is supervised and performed by one of our owners. Our expertise and experience within the cleaning sector assures that all of the work is going to be performed in an efficient, professional way, and take add care each step of the way.
If you have stains, we have the solution! If you have spots or stains on your carpet you think cannot be removed, do not be concerned. We'll knock your socks off using the results we achieve. Whether you have to have your home freshened or a deep cleaning of your carpet we're the company to trust.
As it'll come to your carpet cleaning needs, do not simply trust them to anyone. Southern Carpet Solutions will work hard to gain your trust.
Southern Carpet Solution's reputation depends on it. You'll receive personal, professional service from our skilled technicians.
If you merely have a desire to freshen up your home or need deep cleaning for removal of pet odors – you've arrived at the right place. Get in touch at 985-285-6251 immediately for a free estimate.
We use green chemicals that are safe for your family and pets, and treat your home with respect and care for it like it's our own.
Oriental Rug Cleaning
​Extend the life of your area rugs with regular cleanings. Our gentle cleaning process is safe on all type of area rugs. This will leave them bright and full of color! Ask about our free pick up & delivery!
The Perks Of Choosing Southern Carpet Solutions
Great Low Prices – Competitive pricing on
all services! No hidden charges of any kind!
At Southern Carpet Solutions, we know the value and importance of sustaining a clean environment. Your office's or home's cleanliness may speak volumes about you, as well as leave a lasting impression upon coworkers, clients, family, and friends. We utilize the most recent carpet cleaning equipment and technology to offer unrivaled cleaning results, which are guaranteed to leave your carpeting looking refreshed and revived. No smell, spot, or stain will be too much for us to deal with. Contact us immediately for a complimentary estimate!
Cutting Edge Carpet Cleaning Equipment
Our staff just does not simply utilize a wand device to clean the carpeting. With the exceptional cleaning capability of our carpet cleaning device your carpeting will be sanitized and deep cleaned. We utilize super-heated water to extract more stains and allergens than traditional tap water. The intense extractor removes more moisture for quicker dry times.
We'll Guarantee You'll Love Our Work
If unsatisfied contact us within 2 days and we'll return and perform the task another time, on us. Our professional and well-trained crew is going to care for your belongings and home with careful attention, and leave your house feeling so clean and fresh it'll knock your socks off!
We're Fully Certified and Insured Carpet Cleaning Services
We are professional Slidell, LA residential carpet cleaning services. Contact 985-285-6251 or call us for a no-obligation estimate. Appreciate a clean carpet right away for all visitors to enjoy.
For more details on our carpet cleaning services contact Southern Carpet Solutions at 985-285-6251.
Rewards for Referrals – Receive $25 off Carpet Cleaning for reffering a friend!​
Same Day Quotes – We strive to make your experience
with us the best ever. We give our customers the option of being able to get a free estimate the same day they call!​
Flexible appointment times – We offer our services 7 days a week. Early morning to late at night. 24 hour emergency service available.
Southern Carpet Solutions offers carpet cleaning to the following areas: Slidell, Pearl River, Lacombe, Mandeville, Covington, and Madisonville.